What is a 3 Point Hitch Rotary Cutter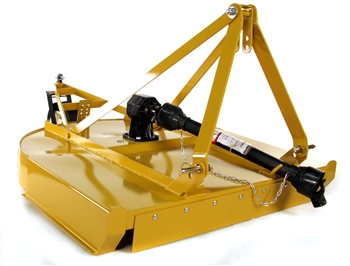 3 Point Hitch Rotary Cutters, Brush Cutters, Brush Mowers, Field Mowers, Finish Mowers, Brush Hogs: the list goes on and on so which is used for what. To get an idea of what you might need it's best to start off the types of areas you would be cleaning. Are you looking for something to cut tall grass, weeds, & small saplings? Open or closed in spaces? Is there enought space for a tractor or would a skid steer rotary cutter be better suited?
When should I use a 3 Point Rotary Cutter?
The most common uses for 3 Point Rotary Cutters are to clean up overgrown fields and commercial landscapes. Another good use is to cut grass under trees where hard objects such as rocks can damage a lawn mower. 3 Point Rotary Cutters also make it easier to clear along banks and slopes.
What can a 3 Point Rotary Cutter take down?
A 3 Point Rotary Cutter (also referred to as a brush cutter) is like a super-powered mower. Very handy for cutting tall grass, shrubs, weeds, and of course brush. Also great for woody material such as stalks and saplings or downed branches up to 4inches in diameter.
What are the pros of a 3 Point Rotary Cutter?
The advantages of a 3 Point Rotary Cutter is that they can clear wide paths of overgrowth without bogging down and in a relatively short period of time. The cutting decks of 3 Point Rotary Cutter are wider than that of lawn mowers and having the ability to multch up the thick stuff is a tremendous value.
3 Point Rotary Cutters are also built to endure rougher terrain and to cut thicker and denser material than finishing mowers.
What are some tips for using a 3 Point Rotary Cutter?
Clearing a field with thick debris can be very difficult with the wrong equipment. First be sure to wear the appropriate protective clothing and safety glasses. Always be aware of your surroundings and get a good feel for the terrain before starting. Beware of stumps, rocks, metal debris and other heavy objects that may damage the cutter or thrown. If you are unable to move large objects, then try and mark them with neon tape or some sort of identification to make them easy to see from a far.
In some cases it might be a good idea to begin with the blade height of your rotary cutter set at a higher position to avoid hitting hard obstacles that may be on the ground. Once you have gone through the area at a higher cutting height, it will be easier to spot and remove or mark such objects if you would like to make second cut with a lower cutting height.